The Goddess / The Mother, our special pop-up with designer Jess Beebe of Linea & Rosette is on view April 7–9 & April 15–16 with an opening reception Friday, April 7 from 6 to 8 p.m. and 10% of proceeds going to Planned Parenthood!
Nationale is pleased to announce a special pop-up with Portland artist and clothing designer, Jess Beebe of Linea and Rosette. Nearly every ancient culture worshipped goddesses. These female figures of strength and reliance represented the creators of life, but the power of the divine feminine in modern culture has been subsumed by patriarchal norms. For "The Goddess / The Mother," Beebe created each garment as an homage to a specific goddess, bringing these often forgotten ancient figures into contemporary life. Her dresses, made from a mix of new and vintage fabrics and often dyed with natural pigments from plants and vegetables, connect each wearer to the natural world and their own inner power. "The Goddess / The Mother" also includes garments for children—under her new label, Rosette—bringing our attention to the notion of family, legacy, and connection through the wearables we pass down from generation to generation.

"This work I dedicate to my father, who cherished and supported my feminine power, both of my mothers, and all my relations.
Also, to the powerful women and children I know and love who help me feel the spark of love in me.
And to my husband and daughter, who are the whole of my love and being."

Jess Beebe has been a working designer since 2001, creating hand-crafted garments for women under the label Linea. Beebe's design aesthetic and goal is to create clothing that benefits the wearer, inspiring a sense of grace and ease in each individual body and form. She favors recycled, natural, organic elegant fabrics with a wealth of color and delicacy to the touch. Her new line, Rosette, which is launching here, was born from the desire that all children be imbued with the truth of the divine feminine. She believes that people have prayed to the Goddess, creator, mother and divine feminine since the beginning of time and that rather than a princess, a Goddess is of nature and a creator. Although the clothing of Rosette is feminine, full of color and movement, sparkle and power, it can be worn by any child regardless of their gender identity. Rosette clothing is made from up-cycled fabric and shared fabric from Linea.
HELLO, LADIES!
Hilary Horvath
Holly Stalder
Kate Towers
Nahanni Arntzen
Sea + Pattern
Skin by Ori
Sunday, December 18 (1-3PM)
Nationale is excited to announce a special evening with clothing designers Nahanni Arntzen, Holly Stalder, and Kate Towers; jewelry designer Sea + Pattern; and featuring mistletoe from florist Hilary Horvath. Whether designing in fabric, clay, or flowers, these five artists create unique & beautiful work. Skin By Ori will be offering her amazing lip sugar waxing. For one evening only, come meet these rad women and experience their captivating ways.
☃❄ ☃❄ ☃❄ ☃❄ ☃❄ ☃❄ ☃❄ ☃❄ ☃❄ ☃❄ ☃❄ ☃❄ ☃❄ ☃❄ ☃❄ ☃❄ ☃❄ ☃❄ ☃❄ ☃❄ ☃❄
Hilary Horvath is dedicated to sourcing the most beautiful, local flowers to feature in her shop & for her clients. One of her favorite and distinguished customers has said, "not even in Paris are the flowers this beautiful." Hilary is constantly amazed and inspired by the offerings of the many flower growers with whom she is fortunate to know in the Pacific Northwest. Hilary Horvath Flowers is located inside Alder & Co in downtown Portland.
Holly Stalder is a clothing designer, bridal designer, and shop owner holding court at 811 East Burnside in Portland, OR. Her days consist of dreaming up and making fanciful clothing in her tiny treasure box of a store, HAUNT where her two clothing labels, HOLLY STALDER and THE DIAMOND SEA BRIDAL, can be found. She is sweet, likes to accept challenges, and loves anything over a 100 years old. Since she established her business in 2000, she has been featured in national magazines, including Elle, Martha Stewert Weddings, The Wall Street Journal, Bust, and Venus. She is hands down what Nationale has missed the most since moving to Division in 2014.
Self taught through experimentation and an artist's vision, Kate Towers creates non-seasonal one of a kind clothing. From 2000–2007, Towers was co-founder and co-owner of seaplane, a renowned shop in Portland featuring local designers and an intriguing collection of hand-made clothing. It is there that she developed her own line and helped inspire the fashion scene that is now Portland. She works out of her studio—located at 1215 SE 8th, Suite C—during the hours of Portland Public School. Visitors welcome!
Nahanni Arntzen was born in a teepee in Kingdom Inlet, 11 miles up the river on a sandbar, way out there on the Southwest coast of British Columbia, Canada. Partly inspired by the styles she grew up with, as well as for a desire to expand her everyday jeans and t-shirt uniform, Nahanni designs clothing to be worn anywhere. All pieces are designed and produced onsite in her studio in Portland, OR (located at 1215 SE 8th, Suite C).
Sea + Pattern is a Portland-based minimalist jewelry line and lifestyle blog with an edge by Britt Campagna Hawkes. There she shares her unique perspective and provide inspiration to all lovers of design.
Skin By Ori is the practice of Oriana Lewton-Leopold, a licensed esthetician and certified Reiki practitioner. She specializes in holistic facials using organic, plant based products that incorporate massage and healing touch, as well as natural sugar hair removal. Sugaring is an art form dating back to ancient Egypt. Using a paste made of sugar, lemon and water, it is molded to the skin and then flicked off, gently extracting hair at the follicle. Oriana's background as an artist guides her as she helps her clients tap into their inner beauty, enhancing what makes them uniquely lovely. Skin By Ori is located across the street from Nationale, within Luminary Salon.
MOONBEAMING WORKSHOP AT NATIONALE WITH SARAH GOTTESDIENER
Nationale will be hosting a special workshop with Sarah Gottesdiener on Friday, December 2 (7—9:30 pm). Register HERE (limited space available).
To many religions, the Moon represents the Female aspect of Divinity, shining softly and brightly.
Understanding the phases of the moon is helpful to any modern mystic, to any woman, and person—as our closest celestial neighbor, ruler of the tides, and a gentle guide to our own intuitive cycles. The moon is a powerful force circling round our planet, and harnessing her energy is a natural step when thinking about our own dreams and goals.
In this workshop we will discuss scientific facts about the moon, become familiar with its 8 different cycles, and upon the symbolic importance of the moon in different cultures. We will go over basic types of manifestation work and spells as they pertain to the four key different moon cycles. Different magickal ingredients, spells, and suggestions on working with cycles will be discussed.
We will end the workshop with a short guided meditation and pertaining to the Moon phase occurring that day.
This course is intended for curious individuals, and for those practitioners who want to focus on using the power and energy of the moon in their meditations, manifestations, and spell casting.
Sarah Faith Gottesdiener is an artist, designer, tarot reader, and writer. She has been working with the mystic muse for the last 12 years, and has been teaching workshops on metaphysical subjects for the past 3. Gottesdiener self-publishes the Many Moons Workbook. Read more at visualmagic.info
CARSON ELLIS BOOK SIGNING
Please join us on Sunday, November 13, 2016 (2—3pm) as we welcome gallery artist Carson Ellis back to Nationale for a special event celebrating the release of her new book, Du Iz Tak?
Limited quantities available. We recommend you reserve your signed copy NOW. See you on Sunday!
RIKKI ROTHENBERG // pop-up
Special pop-up exhibition August 29 & 30, 2016
Reception & performance Monday, August 29 (6-8 p.m.)
Nationale proudly presents a pop-up exhibition of new works by Rikki Rothenberg, an artist and therapist currently living in Los Angeles, CA. Between 2009 and 2012, Rothenberg had three solo exhibitions at Nationale and performed here numerous times, either solo or with her aesthetically-inclined, trans-pop-culture, dance-therapy performance group, Woolly Mammoth Comes to Dinner. We are thrilled to welcome back this old friend of the gallery!
The first I noticed it was four years ago while driving through Big Sur. From the coastal highway cliffs these majestic dusty blues and sage greens, vibrant colors set against chalky burnt sienna – were both death and aliveness. I could sit here and stare at these colors, I thought to myself. I could paint this for years. Although I have not focused on landscape or representational work, I felt as though I understood what it meant to be called to the landscape of a place.
Two years later while out walking near my home, I spotted the corpse of a seagull on the inside of the chain linked reservoir wall. I passed that corpse for months. The coyotes seemed to not have wanted this one. It decayed over time, drying out, losing its fur and turning to bone. I would walk by searching for something in this form and wondering.
That awareness of death amidst life, it was profound and humbling. My work as a therapist and artist ultimately intertwine: holding awareness for pain and potential, loss and inspiration. Noticing a breeze by the movement of the leaves, the branches, the flowers. How they dance for our attention. Aiming to replicate the experience—giving space to your lungs, back, neck, jaw, shoulder, legs, and feet. I feel it in my body, that strength and resilience, imperfectly beautiful, organized, repetitive, diverse, and specific.
Rikki Rothenberg is a visual and performance artist. She offers psychotherapy in private practice in Pasadena, CA. Rothenberg earned a BFA in Sculpture from the Massachusetts College of Art and Design, and a MA in Counseling Psychology from Pacifica Graduate Institute. She most recently presented a series of new artwork and a performance in a show entitled Divinjnowshoe supported by a residency at PAM. She lives in Los Angeles, CA.
JEFFREY KRIKSCIUN // sensitive pop-up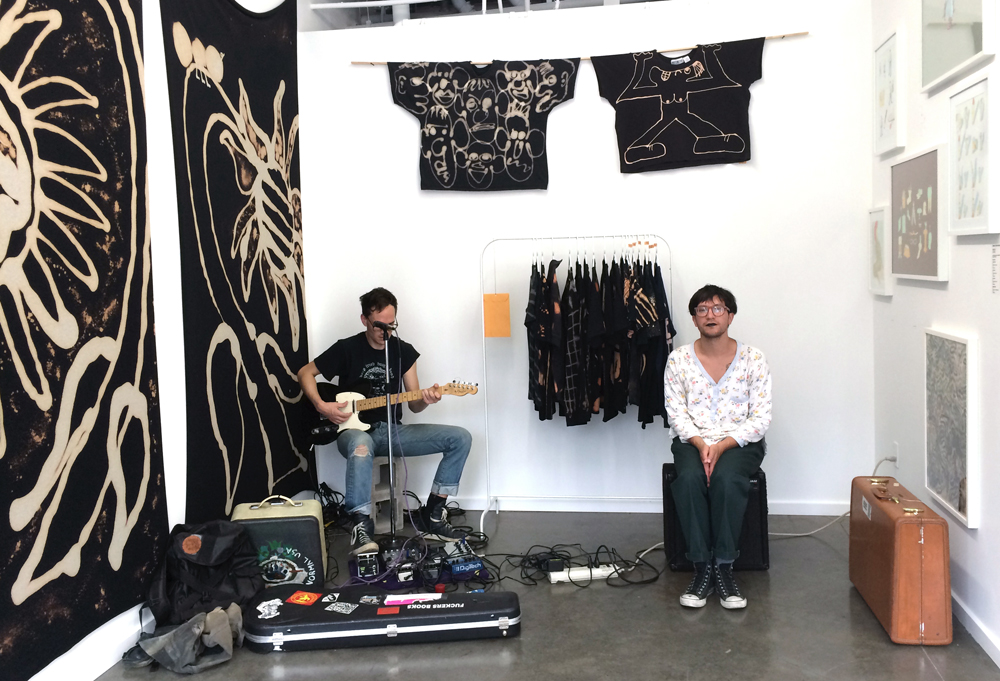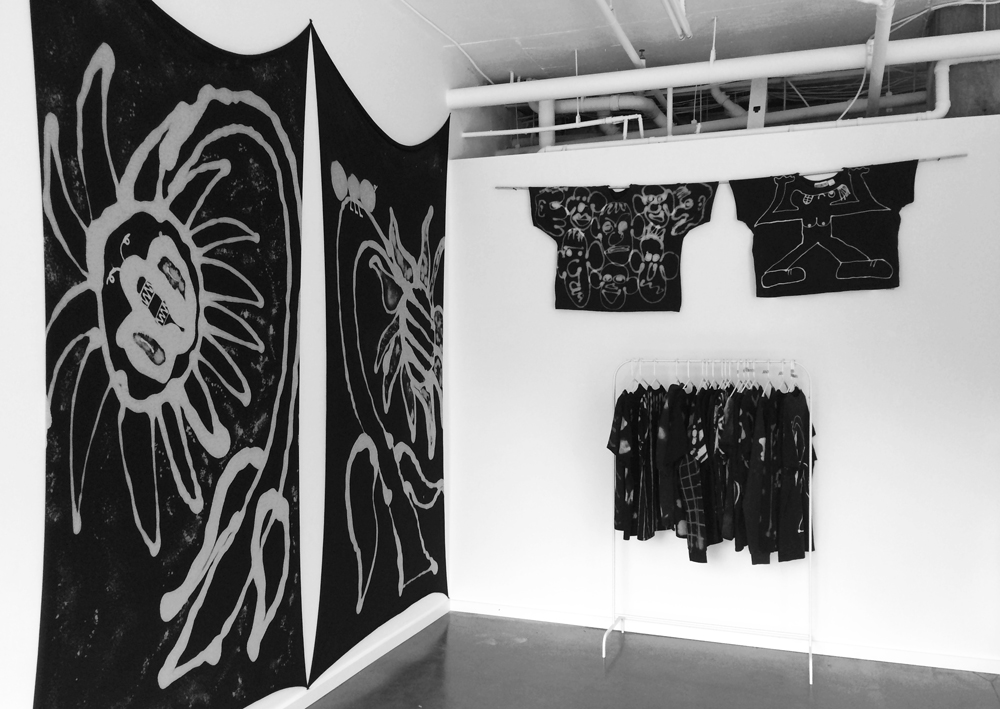 On view July 26–August 3, 2015
Opening reception Sunday, July 26 (2–5 p.m.)

During his summer 2015 residency at Nationale, our friend Jeffrey Kriksciun will make a batch of his highly coveted bleached shirts, as well as a new installation, that will make you forget for a second that it's no longer the Portland of 2002. So come hang out with him Sunday, July 26 (2–5 p.m.). Music by Brian Mumford and refreshments generously provided by Spielman Bagels!
BIO
Following a nomadic zeal for new territories and experiences, Edward Jeffrey Kriksciun is an artist currently based in Las Vegas, Nevada. An experimenter of sorts, naivete is his philosophy and the zine the main container for his musings, the latest being Fragile Jazz published by the Zurich-based Nieves. His visual art was previously shown at Nationale in 2009, 2011, and 2014.
KATE TOWERS // soft serve pop-up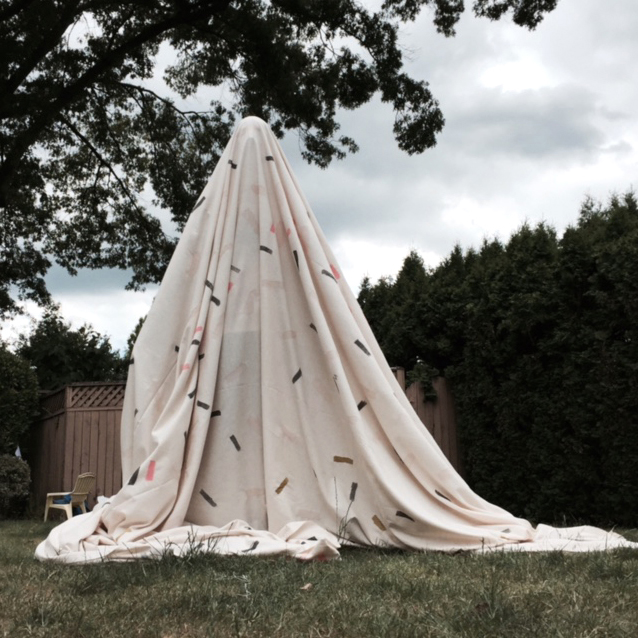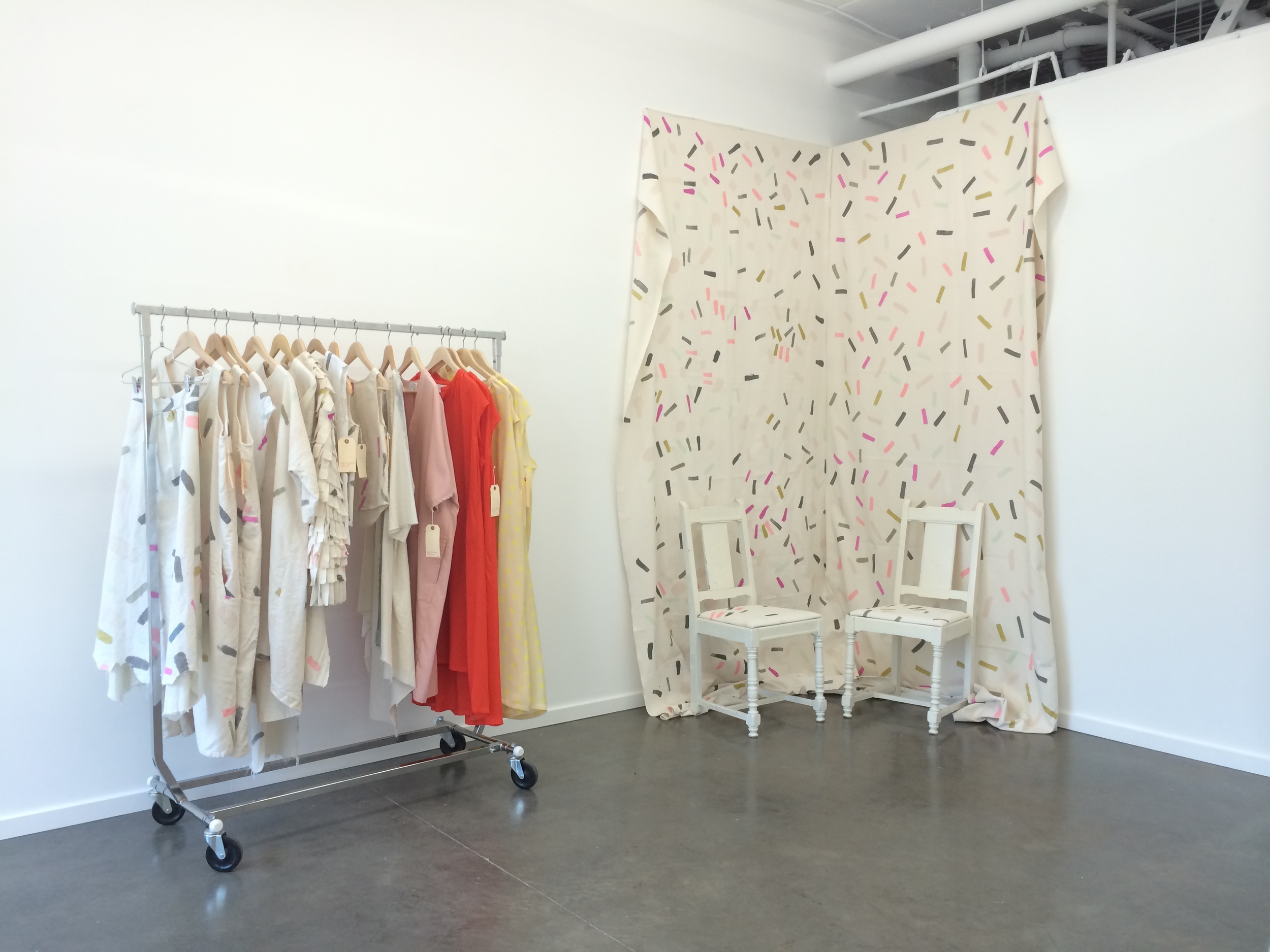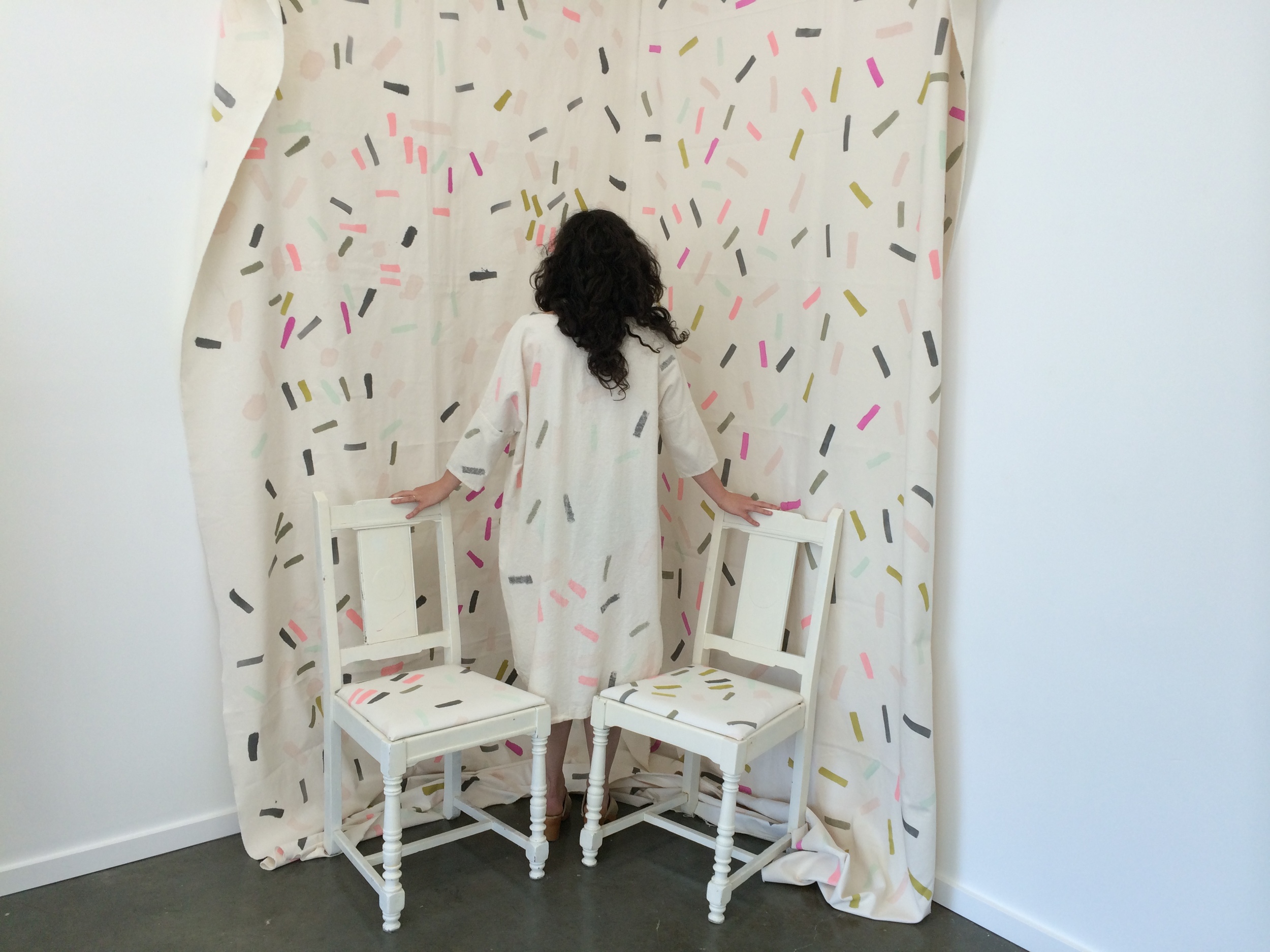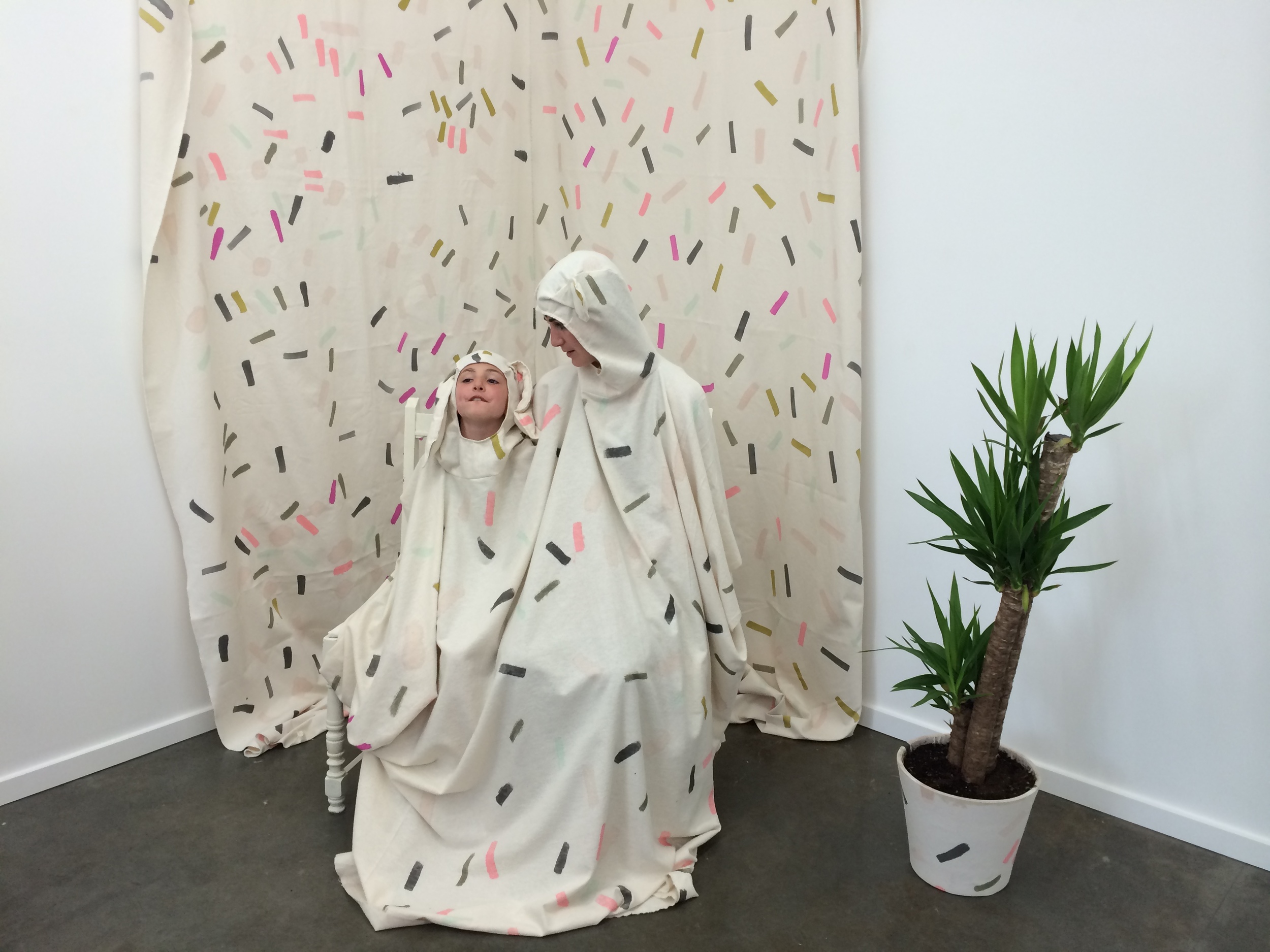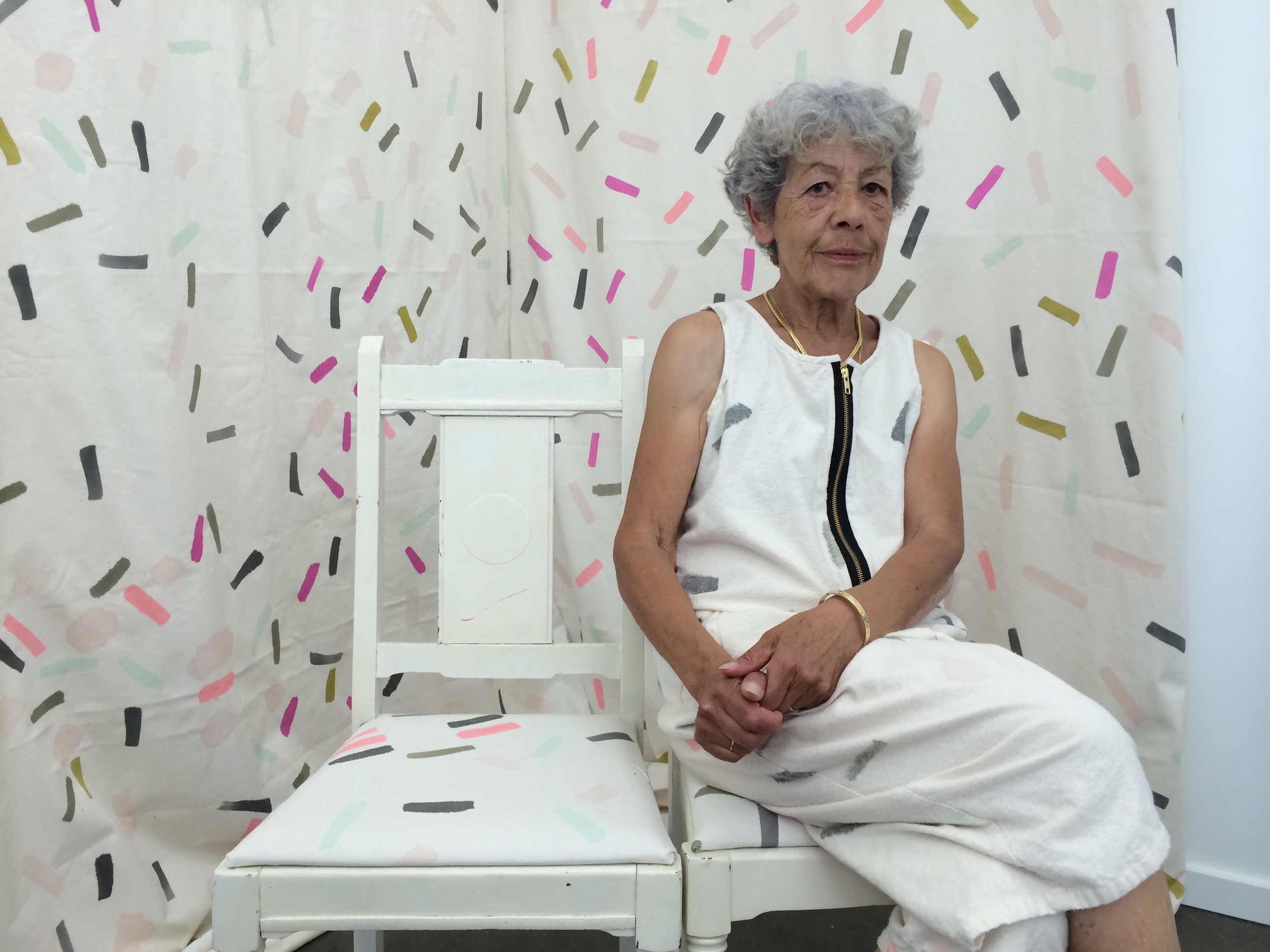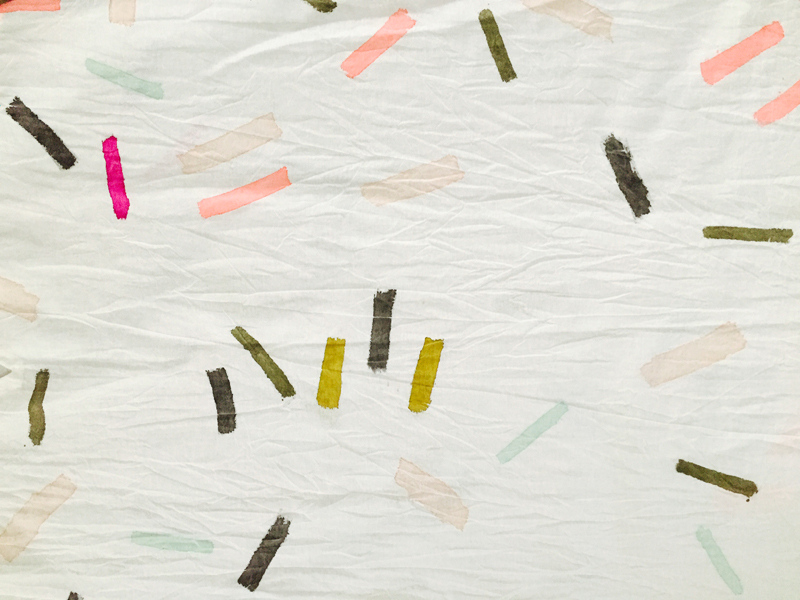 On view July 8–25, 2015
Opening reception Thursday, July 9 (5–7:30 p.m.)

Nationale is excited to announce a special July pop-up with clothing designer and artist Kate Towers. Filling the gallery with hand-painted fabric and garments cut from the same cloth, Towers will create a dynamic visual environment. With this project, she revisits and expands on her 2012 installation for Content at the Ace Hotel in which two women inhabited a room wearing her designs cut from the same green floral textile that covered the walls and furniture, creating a stage at once eerie and enchanting. At Nationale, this concept will be explored further with the use of Towers' hand-painted textile, and with an added participatory element, as visitors will be encouraged to try on the garments and pose in the installation. With a few more items for sale that she has selected from her studio to fit with the mood of the installation, Soft Serve is representative of her desire to experiment and play with the space where art, clothing, and commerce converge.

Self taught through experimentation, an artist vision, and hands on execution, Kate Towers creates non-seasonal one of a kind clothing and is currently working on a new line of limited edition pieces. From its conception in 2000 until spring of 2007, Towers was co-founder and co-owner of seaplane, a renowned specialty shop in Portland featuring local designers and an intriguing collection of hand-made clothing. It is there that she developed her own line and helped inspire the fashion scene that is now Portland. Before re-locating to Portland in 1998, Towers studied illustration and fine arts at The New England School of Art and Design in Boston. She works out of her studio—located at 1215 SE 8th, Suite C—during the hours of Portland Public School. Visitors welcome!

PRESS
Soft Serve featured in Marjorie Skinner's Sold Out column in the
READING WITH TOM SPANBAUER
Nationale proudly presents a special reading by Portland writer and teacher, Tom Spanbauer this Wednesday, May 20, 2015 (7:30 p.m.) at the gallery.

Spanbauer is an American writer whose work often explores issues of sexuality, race, and the ties that bind disparate people together. Raised in Idaho, Spanbauer has lived in Kenya and across the United States. He lives in Portland, Oregon, where he teaches a course titled dangerous writing. He graduated in 1988 from Columbia with an MFA in Fiction and has written five novels, including I Loved You More (Hawthorne Books), from which he will read. Spanbauer is the recent recipient of the Stewart H. Holbrook Literary Legacy Award for outstanding contributions to Oregon's literary life.

"It is a terrifying thing to bring your inner life out of the closet and read it aloud to a group… Because I encourage excellence, and each of us has our own excellent, and excellence only comes with not being afraid of who you are. To learn to speak your truth honestly with a clear voice takes lots of practice, and every trick in the book to keep you going down the arduous, cruel, lonely, glorious path of a writer."
–Tom Spanbauer, on the dangerous writing technique
ILYAS AHMED // PERFORMANCE & RELEASE PARTY
Please join us Thursday, May 14, 2015 at 7 p.m. as we celebrate the release of Ilyas Ahmed's new album, I Am All Your Own.
"Ilyas' music is in service to dream investigation, at once still and impermanent as an August cloud and then sweeping like a strange breeze through your thoughts. "I Am All Your Own" will wrap you in serenity but is aware that any second now you may escape. Music of a sweet morning, and unforgettable." –Thurston Moore
Last image Asif Ahmed
PORTLAND GARMENT FACTORY // BIG SHIRT pop-up
April 22–26, 2015
Reception Thursday, April 23 (4–8 p.m.)
Nationale is excited to host Big Shirt, a pop-up shop and installation with our friends from Portland Garment Factory (PGF). For five days only, PGF will fill the gallery with designs from their in-house, women's wear collection. Big Shirt will feature selections from PGF's past and current collections, as well as a rack of experimental garments made in one hour or less exclusively for the pop-up. In honor of PGF's ethos of "fit, finishing, and fun" Big Shirt will also include a REALLY BIG SHIRT for your viewing enjoyment.
Portland Garment Factory (PGF) is an independent, lady-owned garment manufacturer in Portland, Oregon. PGF launched their women's wear line, Portland Garment Factory HouseLine in 2012 for women who move through the world with intention, humor, and ease.