SPRING BUDS // lora baize + annie mclaughlin + claire redman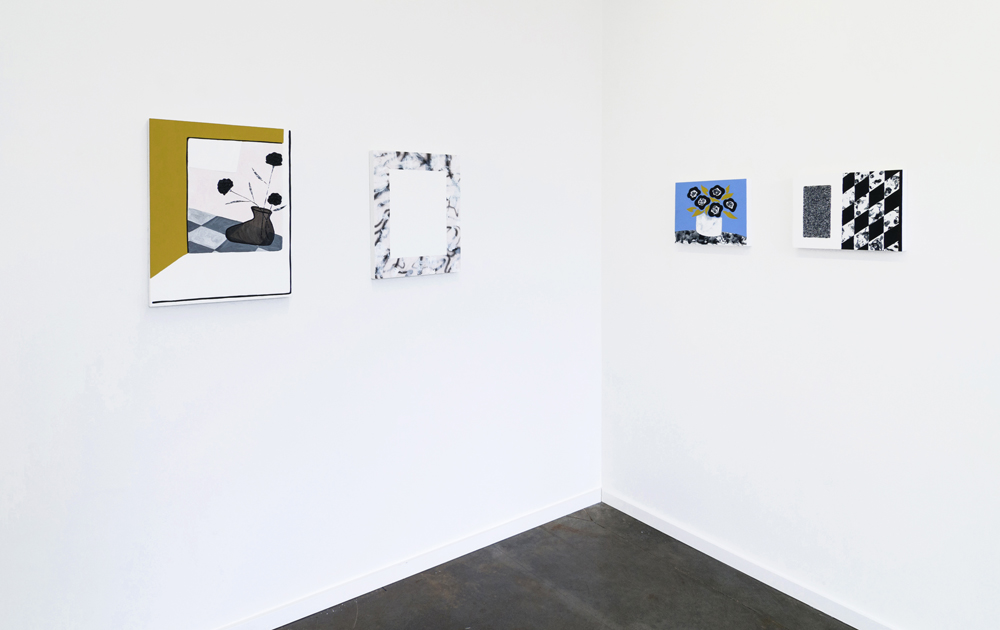 On view March 2–April 4, 2016
Opening reception Sunday, March 6 (3–6PM)

The group exhibition SPRING BUDS at Nationale embodies a sense of joy and opportunity commonly associated with the oncoming season. Unhindered by painting's more conventional guidelines, artists Lora Baize, Annie McLaughlin, and Claire Redman instead employ a brazen materiality and directness within unique formal explorations. Like budding crocuses in the April sun, their atypical arrangements and fluid gestures reanimate more staid painting traditions into thoroughly contemporary compositions. For example, Redman's collaged compilations of small, postcard-like vignettes upon classic still-life views inspire the viewer to imagine new narratives, connotations, and connections. Meanwhile, McLaughlin favors long, fluent strokes and undulating marks that enable her contemplative pastoral scenes to float somewhere between abstraction and representation. This playful reversal of the work of such modern artists as Matisse and Gauguin continues within Baize's still-life odes to the carnation's lovey-dovey associations. Her work teases with the vibrant realism of both traditional flower depictions and romantic symbolism by cloaking her chosen buds in dramatic shades of black and grey. In this manner, the work of all three appears fresh and full of vigor, ready to blossom and inspire anew.
PRESS
Spring Buds featured on Women Artists
BIOS
Lora Baize is a self-taught painter living and working in Portland, OR. She had her debut solo show at Nationale in March 2015. Baize has also shown in group exhibitions at Ray Ray Gallery (Chico, CA), Good Mother (Oakland, CA), and Open Gallery (Portland, OR). In addition to her dedicated painting practice, Baize, along with an anonymous group of Portland artists, founded Open Gallery in the summer of 2014 and continues to organize innovative exhibitions in that space.
Hailing from Long Beach, CA, Annie McLaughlin lives in Portland, OR, where she recently graduated from Pacific Northwest College of Art with a BFA in Painting. Her primary interests lie in painting, woodworking, and weaving. She has been involved with the WildCraft Studio School in White Salmon, WA, since 2012 and received an apprenticeship at Portland's Columbia FiberArts Guild in 2014. McLaughlin had a solo exhibition at Nationale in May 2014. Her work has also been shown locally at Open Gallery, PNCA's Higgins Gallery, and the Museum of Contemporary Craft.
Originally from Los Angeles, CA, Claire Redman graduated from Pacific Northwest College of Art in 2015 with a BFA in Printmaking. Her work has been shown in Portland, OR, at the Museum of Contemporary Craft and in the juried exhibition, Holding Sway at PNCA, and in Cincinnati, OH, at Semantics Gallery. This is her first time showing at Nationale.
IMAGES
To request a price list for this exhibition, please email info@nationale.us